The Best Ceramic Coating Installer in NYC
Ceramic coating is the next generation of paint protection solutions. Ceramic is so much harder and more durable than traditional wax that it is in a completely different category. This cutting-edge paint protection process creates a crystalline layer of ceramic nanoparticles that renders traditional auto waxes and sealants obsolete.
Ceramic coating can be done directly over a vehicle's factory paint, or over vinyl vehicle graphics. Either way, it preserves the surface below it.
One Source Media is a full-service ceramic coating installer in Queens, NY.  We work hard every day to provide you with the best service possible before, during, and after the coating process.
Ceramic Coating Benefits 
Ceramic coatings are preferred by car owners above other solutions because of their long-lasting protection. A ceramic coating, which is essentially a hard shell, protects the paint against water stains, road filth, bird droppings, and other contaminants. They'll just slide right off after a short rinse.
This brings us to a fascinating term: hydrophobic. Normally, anything with the word "phobia" has a bad connotation, but not in this case. A ceramic coating forms a hydrophobic layer that keeps water away. This makes it less likely that mineral deposits and other things will damage the paint surface.
Here are the other benefits of ceramic coatings for cars:
Protection

against UV rays and oxidation
Protection against chemicals
Nanotechnology that cleans itself
Easy to apply

High

-gloss finish
Permanent paint protection means minimal upkeep
Our installers have years of experience in the field
High standards and meticulous attention to detail are required
Ceramic Coating Disadvantages
Ceramic coating, unlike wax, sticks to and bonds with a car's paint and cannot be wiped off and reapplied. If something touches the surface before it has fully set or if a mistake is made, the entire region of the car must be wet sanded and the coating reapplied.
Because the coating will emphasize any flaws, the installer must meticulously clean the paint to eliminate any swirls, scratches, or discoloration before applying the coating.
Ceramic coatings do provide unparalleled protection, but your car will not suddenly become indestructible.
A ceramic coating also needs to be kept up with regular washes without brushes (to avoid swirls and scratches) and the occasional use of a special spray.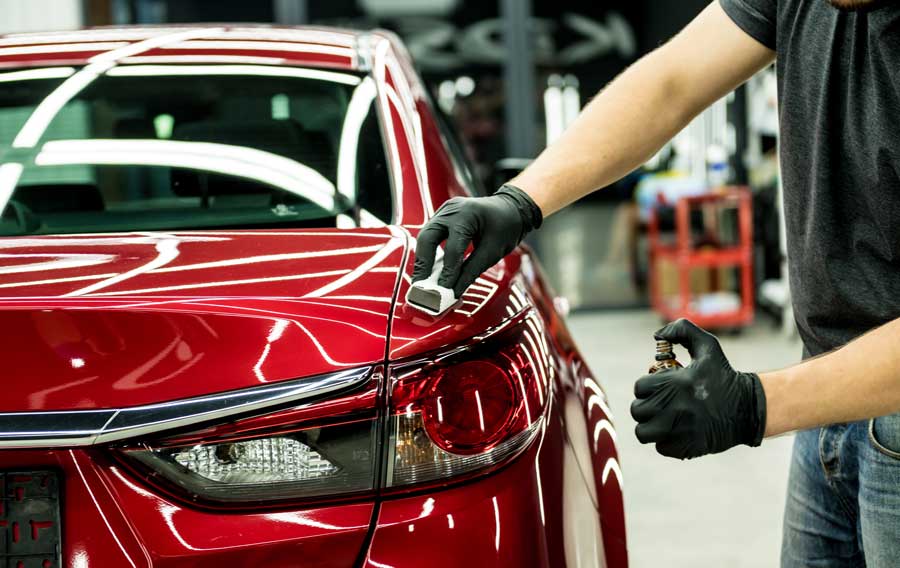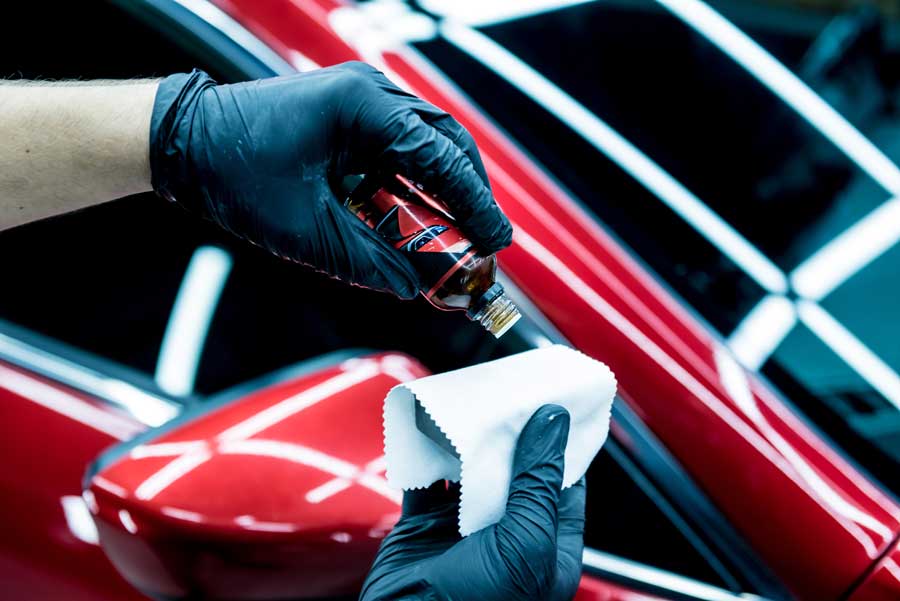 Choosing the Right Ceramic Coating Products
The thickness, slickness, durability, longevity, and gloss of ceramic coatings differ. Ceramic coatings are divided into two categories: professional grade ceramic coatings and consumer grade ceramic coatings. Pro ceramic coatings are thick, super-glue-like coatings that require numerous processes to cure into a hard, thick layer. They offer the best durability and appearance.
Consumer grade ceramic coatings (Ceramic Pro, CQuartz, Gtechniq) are often a single-level application that can be purchased online. They are considerably easier to apply, but they don't cure as firmly as professional grade ceramic coatings, so you won't get the same deep shine and longevity (Modesta, Nanolex, and CQuartz Finest).
One Source recommends calling the businesses and asking questions to see if they have the knowledge and experience in paint correction and ceramic coatings that you require. We've put together a list of questions for you.
1. What is the manufacturer's name?
2. Are these off-the-shelf coatings available online
3. Is it a low-cost knockoff?
4. Do they provide a manufacturer's written warranty?
5. If they reply "yes" to number 4, inquire how many years.
The Best Ceramic Coating Installer Near Me in NYC
One Source Media is your one-stop shop for all of your vehicle coating needs. When it comes to putting the best ceramic coating for all types of vehicles, we are the Queens leaders. We only utilize the highest-quality ceramic coating products available, and our installers are professionally trained by these manufacturers.
In addition to ceramic coating, we are also the top vinyl sign shop in NYC. We provide the best car wraps, vehicle graphics, window graphics, wall wraps, and paint protection film.
For a free, no-obligation consultation, contact One Source Media at (929) 205-1088 or email contact@osmnyc.com.
How much does it cost to get your car ceramic coated?
Please contact One Source Media for a precise price. We will provide you with a free, no-obligation estimate. Ceramic coating is not inexpensive, but it is definitely worth it for a high-quality vehicle. The nano ceramic protective layer will greatly increase the life of your car's paint work.
Why is ceramic coating so expensive?
A nano ceramic coat is a highly developed paint protection material that is put on by a trained professional in a controlled environment.
Ceramic is a high-quality material. Because manufacturers want to make sure that their materials are used correctly, most professional ceramic coating products are not even sold to the general public.
A tech must get the training they need to be able to legally apply Ceramic Pro, Geyeon, or other professional-grade ceramic coatings.
For these reasons, ceramic coating is a high-priced item.
How long does a ceramic coating last?
A nano ceramic coat can potentially last the life of your vehicle, depending on the type of ceramic and how thoroughly you undertake basic maintenance and upkeep. It provides unrivaled protection and is significantly more long-lasting than traditional vehicle waxing. Ceramic possesses diamond-like hardness and is protected by a thin, clear protective layer with hydrophobic characteristics.
Is ceramic coating worth it?
When it comes to deciding whether or not it's worth it to have a car ceramic coated, the answer is that it all depends on the car. Ceramic coating is expensive, so if your car is only worth a few hundred dollars, it isn't worth it.
Ceramic, on the other hand, is well worth the investment in a high-end vehicle.
Given how important the state of a car's surface is to its resale value, ceramic coating for automobiles can pay for itself many times over when applied to high-end vehicles and maintained properly.
The paint layer is protected from corrosion, UV rays, bird droppings, and other unpleasant elements by having this durable, diamond-hard layer of protection. Yes, a professional grade ceramic spray coating is well worth the money for a nice vehicle.
How do you maintain ceramic coating?
Each manufacturer's ceramic coating will have its own set of maintenance instructions. After the application process is completed, speak with your ceramic installer to acquire precise upkeep instructions based on the specific substance put on your factory paint.
What happens when ceramic coating wears off?
When a ceramic coating fades off, it happens slowly over time, until you're back to the factory paint clear coat finish on your car. But if you take care of them and keep them in good shape, some of the best ceramic coatings are made to last the life of your car.
Can you mess up ceramic coating?
Yes, ceramic coating can be easily messed up, which is why most professional-grade goods are only available to experts who have completed the manufacturer's training. When it comes to automobile ceramic coating, it's probably not worth your time to try it yourself, especially if your car is nice.
Can I do DIY ceramic coating?
At your own risk, create your own ceramic coating. Because there are so many ways to get a ceramic clear coat wrong, skilled applicators must be trained by the manufacturer.
Is ceramic coating better than wax?
Ceramic coating outperforms wax by a long shot. It's a hydrophobic coating, just like wax.
It has ceramic nanoparticles, which, unlike wax, give an ultrahard extra layer of protection that lasts a long time and protects against water stains, harmful UV rays, acidic pollution, and most other threats better than anything else.
Ceramic's protective barrier is so superior to wax's that they aren't even comparable. Ceramic is unquestionably the most effective form of defense.
Does ceramic coating prevent rust?
Ceramic coating does not guarantee rust prevention, but it does give an extra layer of protection that outperforms your factory paint sealant. Because of its hydrophobic qualities, it will bead water off better than anything else, reducing the risk of rust.