Fleet Graphics New York City
With fleet car graphics, we can make low-cost advertising a reality for clients across all industries! Wrap your fleet in your company's emblem, brilliant colors, gorgeous graphics, or whatever message you want to send to customers in and around New York City.
One Source Media has the print and installation skills to make your truck wraps, bus wraps, van wraps, and other mobile billboards stand out from the crowd, whether it's a single enclosed trailer, a few Mercedes-Benz Sprinter vans, or a large fleet of trucks.
The main goal of vehicle graphics is to attract attention and make your company message more visible! That's why getting your van, truck, or car wrapped well is so important.
One Source Media provides unique vehicle graphics and wraps for your fleet in New York City, ranging from single decals to full wraps on cars, trucks, buses, and enclosed trailers. We will handle every step of the procedure, from car graphics design and fabrication through installation and removal, as your one-stop custom fleet graphics business.
Fleet Graphics Design
If you don't already have a design and layout for your vehicle graphics, One Source Media's designers will work with you to get the very best fleet graphics design.
If you do already have a design, our designers can check that it is in the correct vector format and can perform any additional layout if needed to make it ready for print production.
Wide Format Printing
In the print production stage, One Source Media prints your vehicle graphics design onto specialized vehicle vinyl wrap material. Our large format printers are capable of handling the largest box truck wraps, bus graphics, and other types of custom vehicle wraps.
We use the very highest-grade printing film from top vehicle vinyl wrap manufacturers such as 3M and Avery Dennison.
Fleet Graphics Installation
Whether we're providing you with race car graphics, letter decals for a fleet of vans, or wall graphics for your retail space, our technicians install your vinyl graphics with the highest degree of professionalism and expertise. Whatever the graphics solution we're providing, we make sure it is installed correctly for years of use!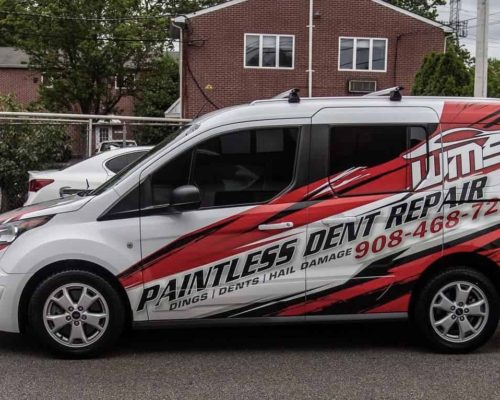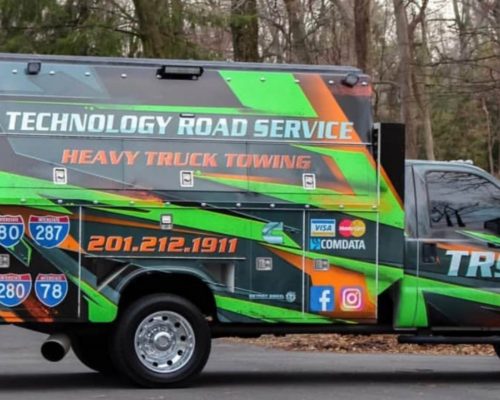 Fleet Advertising New York City
Since 2019, One Source Media has earned a reputation as a dependable partner who makes the difficult task of managing fleet graphics simple. This allows businesses and fleet managers to move forward with confidence, knowing that these precious branding assets are on track to meet their objectives.
With One Source Media, each trailer wrap, wall mural, or custom vehicle graphics is important. No matter the size of the project, your brand needs the absolute best in design, wide format printing, and graphics installation.
Wraps and graphics for your fleet vehicles have been shown to improve your marketing efforts and deliver the following benefits:
Identification in a flash

Advertisement

Vehicle protection

Brand recognition

Business sales
You are only limited by your imagination when it comes to vehicle graphics customization. You can use vinyl letters to display your contact information and logo, or go all out and display a full-color promotional image of your product. Vehicle wraps are available in a wide range of styles, sizes, and textures. The first step in covering your fleet is deciding which wrap style is ideal for your company.
Vehicle wraps are available in a variety of designs, including spot graphics, partial wraps, and full coverage wraps.
Whether you manage a small fleet of repair vans providing professional service to residential customers or your fleet serves the American economy by transporting large quantities of raw materials and products across America's highways, why not advertise your brand on your vehicles and put your fleet to work for you? You can turn your fleet into a cost-effective marketing tool with fleet graphics and vehicle wraps from One Source Media.
Fleet Lettering
Vinyl lettering for vehicles is the most basic form of fleet graphics. Your message will be cut from solid colored vinyl with this option.
Custom fleet lettering can be done in more than 30 different colors, but no printed pictures or gradients are allowed. The lettering for the fleet is pre-masked and put in one go. Company names, contact information, and simple logos are common examples.
Whatever type you choose, your cut vinyl lettering from One Source Media will look amazing!
Spot Graphics
Spot graphics (lettering and numbers) are sometimes used instead of full or partial wraps to keep messaging simple or to simply display your company logo, name, website, and phone number.
Images and text can be used in spot graphics. Your design is printed onto sticky vinyl, not cut from it, and then attached to the surface of your vehicle.
Full Wraps
These cover nearly all of a vehicle's or trailer's open surface area, giving you plenty of room to deliver your message with inventive, complex, and visually appealing designs.
Partial wraps, also known as half wraps, cover only a piece of a vehicle or trailer and are often used to highlight a company's logo and other key branding aspects.
A full or partial fleet wrap is printed on a long-lasting vinyl adhesive and affixed to the vehicle's whole surface area. Fleet wraps are the utmost in vehicle branding and advertising, but they must be placed by a highly skilled technician using specialized tools.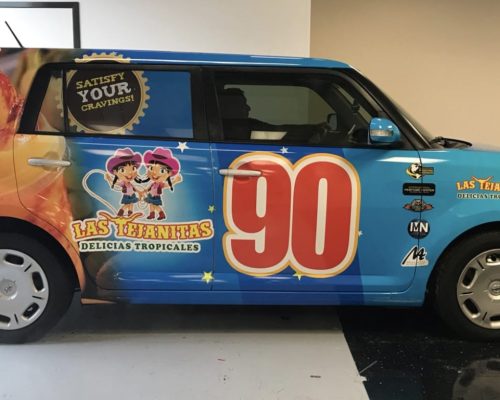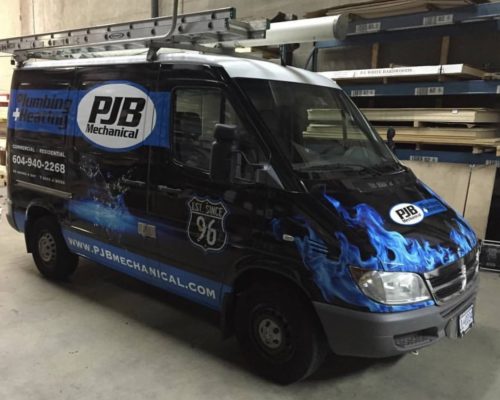 Rear Window Graphics
Perforated car window decals (also known as rear window graphics) are specialist decals made for use on your vehicle's back and side windows. Perforated vinyl is used to create these decals, which means that 50 percent of the material is punctured with small holes called micro punctures.
This permits the decal's design to be seen from the outside while also being see-through from the inside. Rear window graphics are a terrific way to advertise your business or show off a personalized design while retaining visibility.
Custom rear window graphics are frequently used to cover the entire back or side windows of automobiles, trucks, jeeps, vans, commercial vehicles, semi trucks, buses, and other vehicles with windows.
Custom Window Tint Graphics
Ordinary isn't always enough when it comes to window tinting. To stand out in today's environment, you need to go above and beyond. Including custom graphics on your reflective film will make your vehicle windows noteworthy.
Window film cutting technology has advanced to the point that it is now easier than ever to express oneself uniquely wherever you drive.
Window tint graphics, which range from flames to tribal designs to logos and shapes, take a simple glass tinting job to a whole new level.
Vehicle Graphics Statistics
One Source Media can make each fleet car work hard for you as a mobile billboard that promotes for you 24/7/365, whether your corporate fleet comprises a single fleet vehicle, 50, or 500! Our wrap advertising will be noticeable on New York City streets, parking lots, and freeways, promoting your product or service and increasing brand awareness.
Outdoor advertising has a lower cost per thousand impressions (CPM) than any other type of advertising.

98 percent of Americans said they are aware of media that targets drivers and passengers in vehicles.

Outdoor advertising prompted 29% of respondents to visit a retail store within a week of seeing the ad.

96 percent of Americans traveled in a vehicle as either a driver or a passenger.

30% of mobile outdoor viewers make purchasing decisions based on advertisements they see

In the last seven days, the average American has driven 302 miles.

9 million additional cars will pass in front of the average vehicle driven 15,000 miles per year.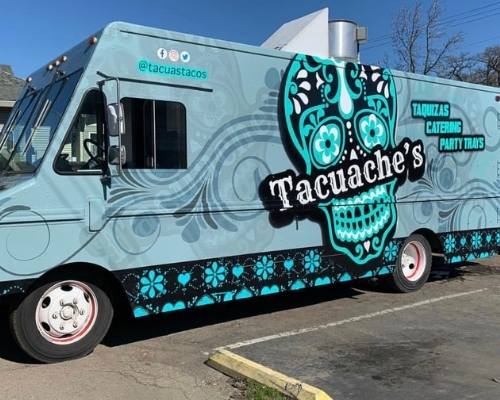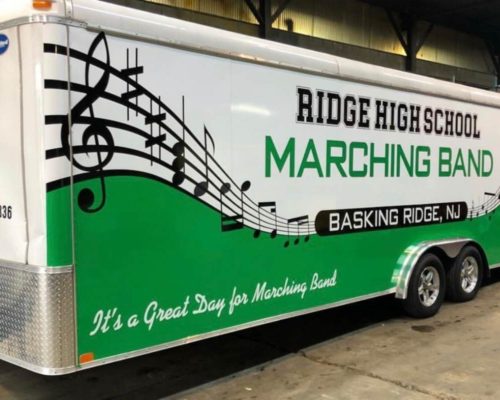 Corporate Commercial Graphics New York City
For many years, One Source Media has managed the fleet graphics of significant national corporations. The majority of fleet graphics are ordered as part of the new vehicle lease. We work directly with new vehicle dealerships across the country to install the graphics on company vehicles before the customer takes delivery.
We can also print and install a wall mural, retail graphics, floor graphics, event displays, custom window graphics, vinyl banners, or other vinyl graphics anywhere in the greater New York City area.
Our product offerings are extensive, including color change car wraps, signs and banners, paint protection film, digital print wall graphics, and much more!
How much are fleet graphics?
The type of graphics (full, spot, or lettering), the type (or size) of the cars, and the quantity of vehicles in your company fleet will all influence our cost for fleet graphics.
You can reach out to us for a no-cost, no-obligation consultation.
Are fleet graphics still effective?
Several studies have demonstrated the effectiveness of fleet graphics. Wrap advertising, for example, is viewed by 95 percent of the population in the United States, according to the Outdoor Advertising Association of America. Millions of people will view your wrapped fleet on the motorways and streets of NYC and throughout New York.
Does One Source Media install graphics for a mixed fleet?
Yes, we can modify the design for each car and apply the vinyl wrap accordingly, whether you have a uniform fleet or a mixed fleet.
Does One Source Media remove graphics?
Yes, whether your fleet graphics were installed by our team or by another wrap company, we can assist you in removing them.
How long do fleet graphics last?
When it comes to the longevity of fleet graphics, factors like sun exposure, cleaning frequency, the environment, and others must all be taken into account. The longer your vehicles are exposed to deteriorating conditions, the shorter their graphics' lifespan will be.
Do graphics damage the paint of vehicles?
Vinyl graphics, in addition to providing an alternative advertising medium, can serve as a type of paint protection. As a result, when installed by specialists like One Source Media, it should not harm the paint.
How long does it take to install fleet graphics?
The size and number of automobiles in your fleet impact the length of time it takes to install fleet graphics. For an estimated graphic installation timeframe, please contact One Source Media.