Wall Wraps, Decals, and Graphics in New York City
A wall wrap is magic for your interior space. Whether you have a home, a retail space, an office, or a restaurant, a classy wall graphic from One Source Media can transform the look and feel of your room at an affordable price.
Our custom wall decals, wraps, and graphics can be used for interior decorating, branding, advertising, signage, or just to look stylish and classy.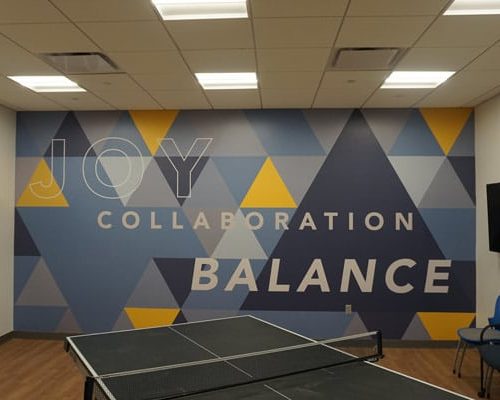 Advertising with Custom Wall Graphics
As a business owner, you look for cost-effective marketing and advertising venues. With our large format printing and graphic design capabilities, your corporate or retail wall space becomes prime real estate for eye-catching branded designs.
Branded Graphics that Enhance Your Aesthetic
With One Source Media's wall wraps, and custom wall decals, your workspace gets a pop of style and color. Simultaneously, your visitors are exposed to your business's branding and messaging.
Expose Potential Customers to Your Selling Points
In addition to looking really cool, branded wall decals and vinyl wall graphics from One Source Media expose visitors, passers-by, and customers to your brand's selling points. Just by being in the presence of our custom wall stickers, people are psychologically acclimating to your brand.
Vinyl Wall Art for Extra Pizzaz
A wall decal can do much more than serve as an advertisement. It can amaze, delight, and engage visitors. It can be a conversation piece. Something they want to take their next Instagram photo in front of. A custom vinyl mural will make them remember you.
Vinyl Mural Art Reprints
With our large format printing capabilities, One Source Media can reprint works of art onto large pieces of vinyl and install those on your walls. As long as you have permission from the copyright owner—or ensure that the art is in the public domain—you can have any artwork you like on your walls, and at a very affordable price.
Original Artwork Printed on Wall Stickers
If you like, One Source Media can create original artwork for you. We can then print the artwork and install it on your walls in the form of an original vinyl mural. Alternatively, if you have a knack for art and wish to create your own design, we can print and install it; we'll just need the high-resolution file from you.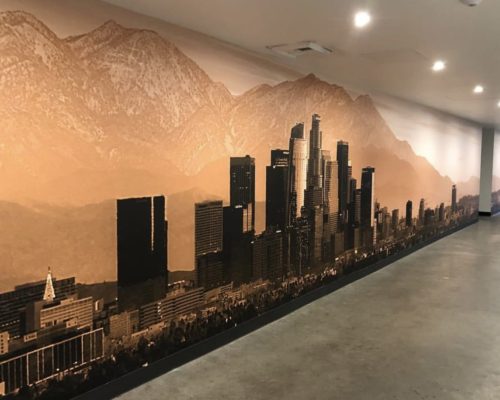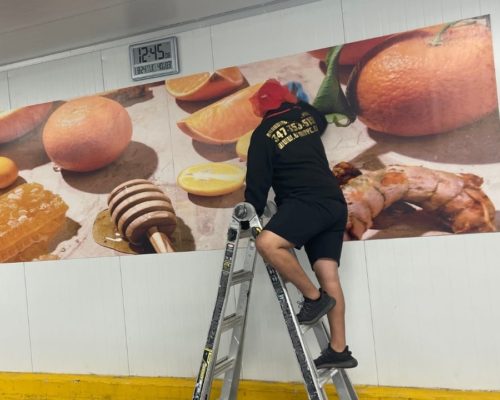 Custom Wall Decals for Interior Décor
OSM's custom wall graphics can play an integral role in your renovation project. If you're trying to freshen up a stuffy old workspace, foyer, boardroom, or office, what better way than with color-coordinated graphics that cover the surface of your wall?
Think Wallpaper…that You can Customize
It's the next evolution of wallpaper. With our custom wall stickers, you can cover the entire surface of your walls, just as with wallpaper. Unlike with wallpaper, One Source Media can print the colors, designs, graphics, or other visual elements that will complement your entire décor!
Cover Entire Walls, or Use as Accents
Don't want to cover the entire surface of your walls with vinyl graphics? That's OK. One Source Media's wall decals can serve as eye-catching accents.
Advantages of Wall Wraps
Taking advantage of your available wall space is one of the most strategic decisions you can make for your business and brand. Putting wall wraps with vivid coloration and high-definition images allows you to advertise to visitors—for free (once you've paid for the upfront cost of the graphics)!
Unlike wallpaper, wall paint, an other types of wall décor, our custom wall decals and prints work hard to do the following and more:
  Advertise and promote your products and services

  Create original interior design accents customized to your branding and business aesthetic

  Convey your brand's mission, vision, and values

  Share you company's history and accomplishments

  Add custom Signage to walls and surfaces for wayfinding, instructions, or other messaging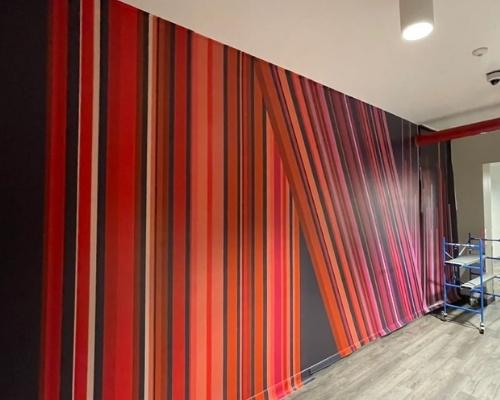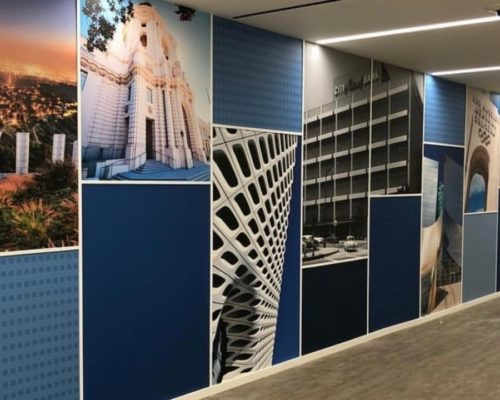 Best Areas for Wall Wraps
Business owners, interior designers, and facility managers throughout NYC use our custom wall graphics in the following applications and many more!
 Commercial buildings: wall graphics are amazing either indoor or outdoors. For example: in malls, outlet factories, cafes, coffee shops, and restaurants. Our quality wall decals make employees, visitors, and customers feel a vibe unique to that location.
Office buildings: instead of wallpaper, use wall wraps. They're more durable and easier to remove if you ever want to change up your interior decor. Plus, you have way more latitude for original design! Some ideal spots to have our wall graphics: hallways, cubicles, meeting rooms, boardrooms, break rooms, and lounges.
Art galleries: even artists love our wall wraps! Because we can create custom digital art, it's easy to make original wall graphics from reproductions of the artist's own work!
Residential: a custom wall decal is a great way to transform that room in your house you've been eyeing. Whether a kitchen, hallway, bathroom, or bedroom, our wall decals will make a splash!
The One Source Media Wall Decal Process
As a leading full-service wall wrap and vinyl sign shop in New York City, One Source Media designs, prints, and installs every vinyl wall wrap project to the highest quality standards. We use only the best wide format printing vinyl materials and high-durability inks.
We implement a standardized wall graphics process that we have refined through the years to give the best possible customer experience and the highest-quality wall decals!
One Source Media has a team of expert graphic designers ready to collaborate with you. If you already have graphics or a design in mind, we can print it onto wall vinyl and install it.
If you don't have artwork, or if you don't even know where to begin, we will brainstorm with you to develop something amazing!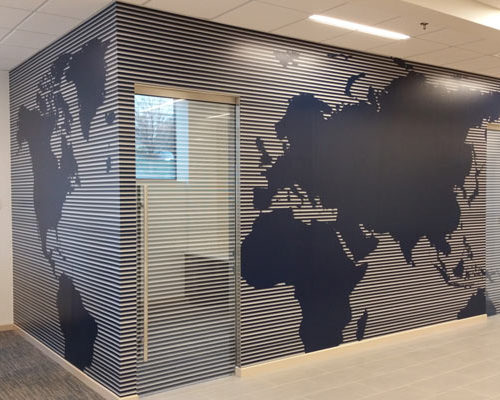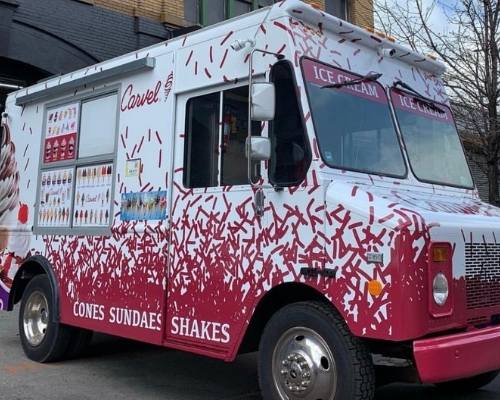 Other Vinyl Wrap and Graphics Offerings
In addition to our custom vinyl mural and Wall decal offerings, One Source Media provides a wide range of related services and products:
Custom Vehicle graphics
Wrap advertising on windows, company fleets, and more
Perforation Window film
Custom

 

vinyl banners
Branded Fleet graphics
Storefront signs
Retail flags and banners
Event signage
…and much more!
Contact One Source Media Now
One Source Media is more than ever ready to help you with your custom wall wrap needs. Call us at (929) 205-1088 or email our team at contact@osmnyc.com.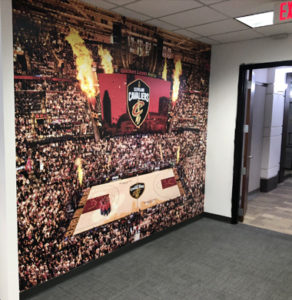 Will an OSM custom wall sticker leave residue on my wall after I remove it?
If installed correctly, a wall decal from One Source Media should come off cleanly and leave very little residue on your wall surface. Why you'd ever want to remove such an awesome piece of wall art is another matter entirely.
What is the price for a custom wall decal?
We can design, print, and install wall graphics of any size, from a small logo or piece of signage, all the way up to a giant mural that covers the side of a building. The price of our wall graphics varies depending on several factors:
The size of the wall art or graphic
Where it will be installed (for example, is it in a hard-to-reach place that requires boom lifts, or is it easy to reach; is it inside or outside)
The type of wall surface it will adhere to
To get an exact price quote for your walls, please call One Source Media at (929) 205-1088 and we will give you a free, no obligation estimate on the cost for your individual project.
Are wall decals easy to install?
A wall sticker or mural is easy to install if it's smaller in size, if the wall surface is in good condition, and if the person doing the installation is a trained professional.
For larger wall murals and wallpaper, installation can be a challenge for the inexperienced, and there are many ways to mess up the installation. It becomes a lot more complicated than a simple peel and stick bedroom wall decal.
However, One Source Media's trained wall installation specialists have the necessary tools, equipment, and expertise to install the most challenging of mural graphics installations.
Can I have any graphics I want on my wall decal?
Subject to applicable copyright laws, One Source Media can print any graphics or designs of your choosing on your vinyl mural or wall sticker.
Or, if you like, we can create new, original graphics for you. Our skilled graphic designer can talk to you about the aesthetic you'd like to create. They can then render that vision into quality printed digital art and our experienced installers can install it on your wall.
Can you print my company logo on a giant wall decal?
Yes, we can print any artwork or graphics you like onto a wall decal, including your company logo. In addition to your logo, we can include a tagline, corporate imagery, or anything else you'd like to incorporate into your wall decal.
Or, if you like, we can create new, original graphics for you. Our skilled graphic designer can talk to you about the aesthetic you'd like to create. They can then render that vision into quality printed digital art and our experienced installers can install it on your wall.
Can you do a mural for a work room?
Yes, we can do a mural for a work room, whether it be an industrial facility, co-working space, warehouse, or other type of space. The process is the same no matter what room or space the mural is for; we make our graphics to your specifications, then we install them on your wall!
Is there a way to add wall art to a surface that's not a wall?
Yes, our custom wall decals can also adhere to other surfaces, such as machinery, doors, or even glass. As long as we know in advance what sort of surface the graphics are for, we will make sure to print the graphics onto the correct vinyl product to ensure a quality and long-lasting sticker.
How long do wall decals last?
Wall decals can last for many years if they are made with high-quality materials and placed in a well-ventilated area. Interior wall decals and wall graphics will last longer than wall graphics installed outdoors.
Can you reuse wall graphics?
Reusing wall graphics is possible, but we do not recommend it at One Source Media. Vinyl decals and graphics that have been repurposed can be difficult to work with and can cause a lot of damage. If you have an idea for a new wall graphic design, just call us instead at (929) 205-1088.
How do you preserve wall wraps, graphics, and decals?
Preserving wall wraps actually starts with proper wall prep prior to installation. Your wall must be clean and free from holes or bump spots. One Source Media is meticulous about our surface preparation when we install wall graphics.
Once installed, wall graphics are fairly low-maintenance. Just keep them clean so they continue looking fresh.
How do you make vinyl wall wrap sticky again?
How do you make vinyl wall wrap sticky again?
There are numerous methods available online for reactivating vinyl adhesion, ranging from a thorough cleaning of the wall to the application of commercial glue.
However, if you have a lot of wraps, full graphics, and large decals, we recommend hiring a professional installer.
OSM customers who find themselves in this predicament need only contact us at (929) 205-1088 for a no-obligation consultation.