Large Format printing Queens NY – One Source Media
Throughout New York City—in fact, in NY, NJ, and the Northeast generally—you'll find large format printing signage. From billboards to wall wraps, retail banners, vinyl retail signage, and large posters, wide-format printing of advertisements has caught the eye everywhere.
One Source Media brings you the widest range of large format printing products and services in NYC. Billboards, banners, flags, posters, signage, car wraps & more. Come and see why we're The Big Apple's favorite same-day large format printing shop!
Your brand should stand out in the competitive advertising world. Discover our wide range of products printed on state-of-the-art large-format printing presses. You'll see why NYC companies and organizations are turning to One Source Media for serious large-format printing jobs.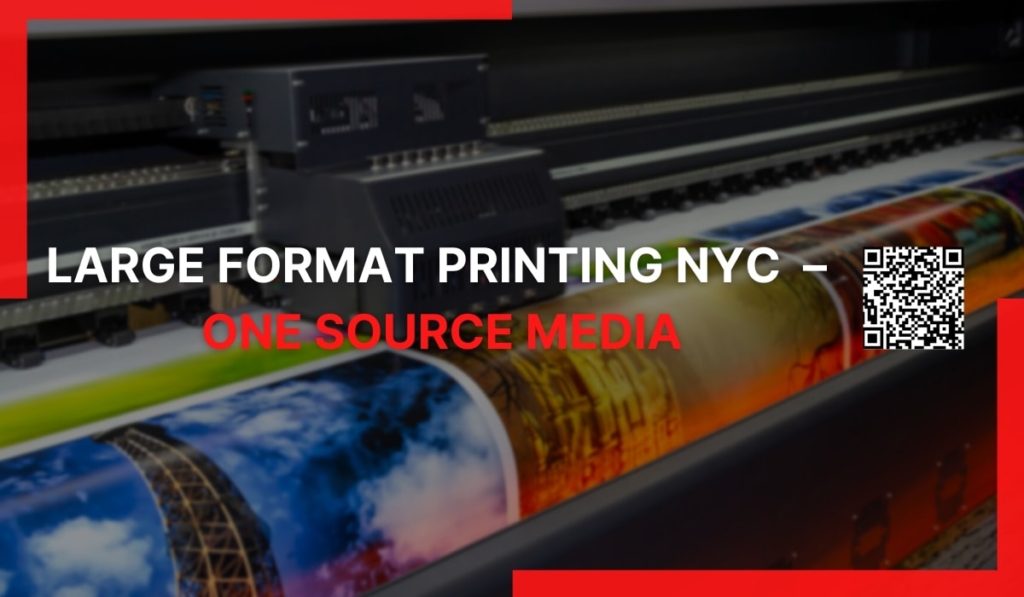 What is Large Format Printing?
Large format printing, often referred to as wide format printing, is a term referring to signs that extend beyond what normal commercial printing presses can accommodate. Large digital printing projects require specialized printing presses and equipment capable of producing oversized signage and banners. Luckily, One Source Media has state-of-the-art wide format printing equipment right here in Queens, NY!
One Source Media has a number of wide format printing machines. Not only are our presses capable of printing large signs and banners, but their graphics retain crispness and detailed resolution.
Many types of industries use large printed signs, billboards, banners, and wrap advertising. Such signage can market or advertise a variety of things, such as:
Concerts

Events

Business location and contact information

Public service announcements

Store openings

Movie releases
If you want your brand, service, product, message, or event to be noticed quickly and easily, a big sign will do that for you. Good design will retain the attention of your potential customers, but a big sign will capture it in the first place. 
In addition to large-format printing and signage, One Source Media specializes in customized event production and retail display and/or build-out solutions for digital and offset printing.
Large format printing products & services
One Source Media is the top large format printing company in New York City. We create all types of large format printing signage, including:
Vinyl banners

Wall wraps 

Backdrops

Construction / retail barricade wraps

Skyscraper advertisements

Fabric printing

Custom Lettering

Retail graphics

Window film

Photos

Billboards
Bus wraps

Window perforation graphics

Building banners

Wallpaper

Big signage

Scaffolding

POP displays

POS displays 

Permanent displays

Temporary displays

Adhesive signage

Vinyl signs
Window vinyls

Vinyl banners

Custom fabrication

Custom signs

Construction fence banners

Cut vinyl 

Event signage

Specialty installations

Vinyl lettering
​​​​​​Who utilizes wide format printing in NYC?
Large format printing is employed by a wide range of businesses and industries throughout Queens and greater New York City. Large format signage is great for revealing upcoming events, such as plays, films, carnivals, festivals, circuses, movies, music releases, grand openings, concerts, and more. W ide format printing can advertise clothing brands, grocery stores, or yoga studios. Or anything else you want to announce or advertise. Large format signs are the most difficult type of sign to create without a trained graphic design and Sign shop, and at One Source Media, our design team can create the ideal large sign for any service, product, organization, cause, business, event, or whatever you like, all at very affordable prices.
Large format graphics accessories
In addition to large format printing of the highest quality, we can customize your large signage to the environment in which it is displayed, to provide whatever accessories or special features you need.  
Laminating: we can add laminating film to vinyl banners and  paper signs to make them weatherproof, stiffer and more resistant to stains, tears and other  damage. 

Contour cutting : we can cut right to the edge of the design. This gives it a more streamlined appearance, as it reduces excess borders or background space. 

CNC routing: computer numerical control (CNC) routing machines create precision shapes for your sign with, regardless of how intricate. 

Hemming: when your banner is finished, hemming strengthens the edges and gives them a more beautiful appearance. Hemming is achieved by folding the edges and heat-welding or sewing the vinyl material. 

Seaming: similarly to hemming, this is a technique for creating a robust, reinforced and coherent finish for the edges of your sign. 

Grommets: these are reinforced holes in the hem of a banner, allowing the banner to be hung from fixed points. 

Pole pockets:  these are formed on a banner's edges by folding the edge and attaching it to the back of the banner, allowing a pole to be inserted to support the signage. 

Stands: One Source Media can provide a variety of stands to support and display our printed Signage!
24-hour rush printing services throughout New York City
One Source Media cares about your projects and deadlines. We offer high quality, 24-hour same-day printing services for your rush orders. We can produce your project in a single 24 hour period and have it ready for you within that same period. So, if you're in a hurry to get your large custom Signage, we've got you covered. 
Trade show displays & exhibits
New York City is a popular destination for tradeshows and conventions. With many expos such as the Jacob K Javits Convention Center, The Big Apple can accommodate a lot of industry events throughout the year. Most One Source Media displays are portable, allowing you to reuse them at conventions, in your office, or wherever you like. Or, if you represent your brand at a lot of trade shows, we can make you specific convention signage, from retractable banners, 10×10 displays, 10×20 displays, portable pop-up displays, tension fabric modular, express line displays, wall wrap displays, and much more.
Large format Wrap advertising
You can also get wide format printing for your corporate vehicles! With our Queens vehicle graphics, you can have a vinyl wrap that your Fleet vehicle, van, bus, pickup truck, box truck, tractor-trailer, food truck, or any other type of vehicle! Our custom vinyl wraps will turn any vehicle into a mobile Billboard that will advertise for you all over New York City!
The right choice for large format printing service
Large digital printing covers a wide variety of material, mediums, skills, and components and is designed for marketing and branding, but also for taking advantage of unused wall and window space. Window graphics, floor graphics, vehicle graphics, vinyl murals are all examples of large format printing. Everything can be turned into a sign or an advertisement: that's what makes wide format printing such an effective marketing channel. 
One Source Media offers a wide range of large format products, including pennants, flags, banners, Signage, posters, billboards, LED boxes, backgrounds, floor graphics and car wrap advertising. Come visit the leading large format printing service in NYC: One Source Media!
How thick are your vinyl banners?
We print custom vinyl banners onto 13, 15, and 18 ounce thickness vinyl.
What artwork do I need to provide?
If you're providing print-ready artwork to One Source Media, you can use the following guidelines:
Use CMYK color mode, not RGB.

Set your font color to 100% K instead of 4c for black type

When using special colors, enter your desired HKS or Pantone colors into the color channel

Use grayscale color mode when specifying a grayscale item.
Or, if you're over your head (or prefer to do other things with your time), just let the graphic design team at One Source Media handle setting up your artwork files!
What can you print on?
Thicker materials, up to 2″ thick, are printed directly onto the substrate:
Foamboard

Gatorboard

Coroplast

Sintra

Plexiglass

Illustration Board

Duraplast

Metal

Wood

Doors

Canvas

Posters
Can you do offset printing?
Offset printing is a method by which the image is moved (or "offset") to a rubber roller then to a printed surface. Also termed "offset lithography," this method is ideal for large-scale productions such as magazines, newspapers, catalogs, or books. 
At One Source Media, we utilize roll offset printing, which is a high-speed device that feeds the paper rolls through the printer. The pages are separated and cut after printing. We can handle all your offset printing needs throughout the greater NYC metro!