Vinyl Signage for New York City Businesses
The creation of a vinyl sign involves printing onto specialty vinyl with a large format printer. One Source Media can print graphics onto many different types of vinyl, depending on the application.
For example, we can print graphics onto a large vinyl sticker or decal, which can then be applied to a wall or a vehicle. Or, we can print graphics onto a vinyl banner, which can be mounted on a building, a fence, or some other object.
One Source Media uses the very highest-quality inks, vinyl materials, and printing processes to ensure that your custom vinyl signs serve you well.
There are many types of custom vinyl signs, and One Source Media supplies New York City businesses with all of them, with fast turnaround and affordable prices!
Vinyl Lettering
Vinyl lettering is an affordable and easy way to add class and brand messaging to almost any surface! Our Lettering includes typography, numerals and contours that are separately trimmed out of a sheet of solid vinyl and then placed on transfer tape.
The lettering can then be added to your window, door, vehicle, or wall as a single element, generating a smooth, sophisticated look.
Surfaces that make good candidates for vinyl lettering include: glass, vehicle paint, windows, walls, equipment, storefronts, trucks, vans, cars, food trucks, semi trailers, and boats.
One Source Media lettering is cut out of the highest quality vinyl material and meticulously applied to your surface by professional vinyl sign installers. All lettering is available in custom sizes.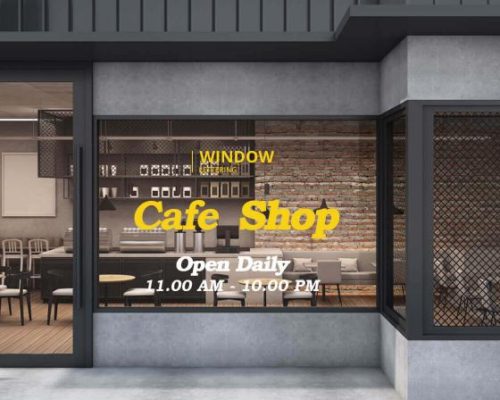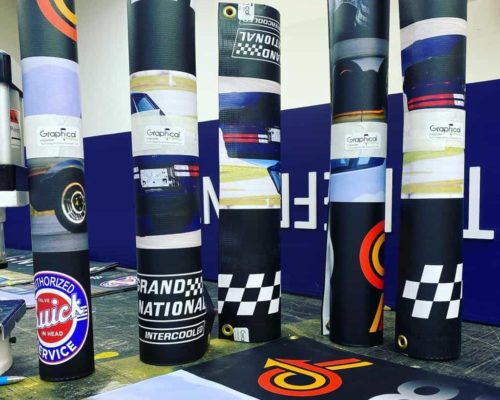 Custom Vinyl Banners
Economical, quick and easy to design, print, and install, vinyl banner signs are a great way to promote your New York City business! One Source Media offers custom banner printing and installation for any occasion, event, or location, including:
Promotional storefront signage
Tradeshow and convention banners
Special event vinyl banners
Display banners
Retail banner signage
Mesh banner signs
Each One Source Media custom banner is printed onto durable vinyl, and our banner printing technicians are the best in the business! We can create custom vinyl banners for indoor or outdoor use, and can outfit them with grommets, wind slits, or whatever the application calls for.
Not only can One Source Media print your custom vinyl banners; we can install them for you as well, anywhere in the greater NYC metro! Depending on the nature of the vinyl banner order, we can often complete it by the next business day!
Vehicle Graphics
Full color vinyl wrap graphics on your company vehicle get a lot of attention! You can turn your company fleet, or even your personal car, into a mobile billboard with our printed vehicle vinyl wrap solutions! Our vehicle wraps and vehicle graphics can be as simple as a logo decal on your car door, or as complex as a full car wrap!
One Source Media prints our vehicle graphics onto the highest-grade vehicle vinyl wrap material from top-tier manufacturers such as Avery Dennison and The 3M Company. We then install it over your vehicle paint, creating a vehicle wrap advertisement that travels with you wherever you go.
One Source Media can print and wrap individual vehicles such as cars, pickup trucks, trailers, or food trucks. Or, we can provide wrap advertising solutions for entire corporate fleets!
Vinyl wrap advertising can be one of the best customer acquisition strategies for your product or service, given how many eyeballs your vehicle will pass on the street of NYC.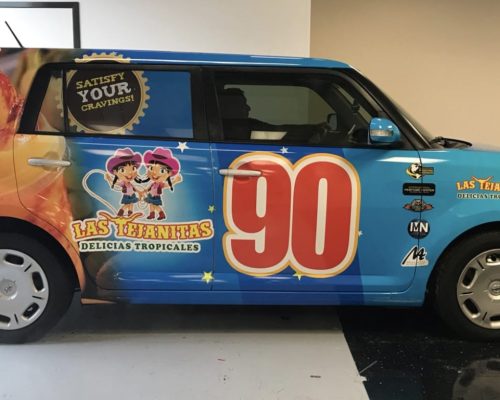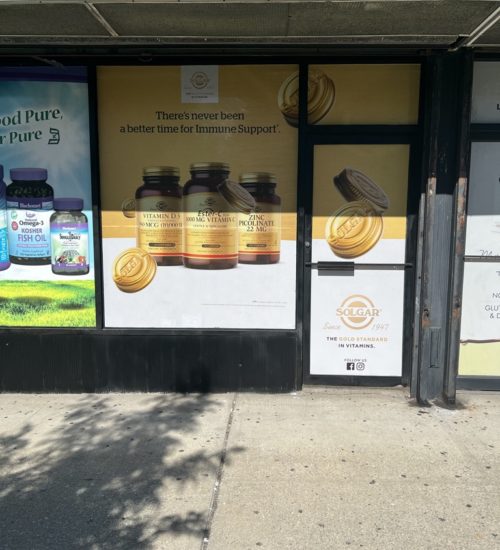 Window Film Graphics
Our state of the art window graphics are printed on specialty vinyl wrap known as perforation or perf window film because it is full of tiny holes. These are graphic decals that don't block light or vision.
When we install our vinyl artwork on the windows of your business or vehicle, the perf window film allows you to see through it! But, it gets better: the perforation provides one-way vision.
You can see out, but your customers can't see in. When someone is outside trying to look inside, they see your branded window display graphics!
One Source Media window graphics can be as small as a perforated logo decal for your rear window, or large enough to span a large office building windows.
Wall Wraps and Vinyl Wall Graphics
Got some empty wall space? Put that to good advertising use with a custom wall decal or vinyl mural from One Source Media! Our wall decals, wall wraps, wall graphics, and vinyl mural installations allow you to transform any empty space into art, advertising, corporate communication, or whatever you like!
One Source Media wall decals add visual design elements to an otherwise bland space. Printed in full color and high-resolution, they adhere to the surface of your boardroom wall, factory wall, or wherever you want us to install them.
A One Source Media wall decal can be as simple as your corporate logo applied to your workplace wall as a sticker, or as large as an entire building, with elaborate graphic elements. Each wall decal or mural is custom-made to your company vision and the space for which it is destined.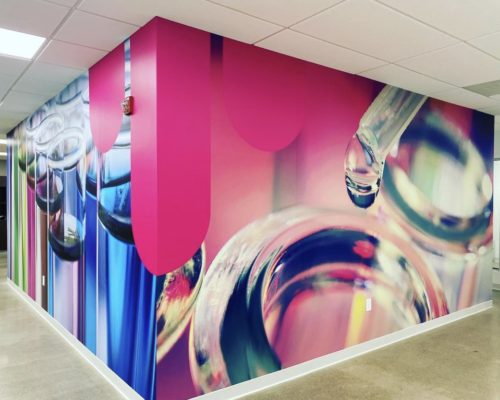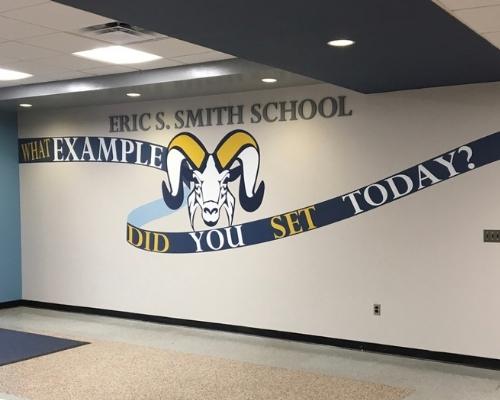 Custom Vinyl Decals
One Source Media designs, prints, and installs custom vinyl decals. Our vinyl decals are fully customizable: we can make them in any size and shape, and with any graphics you like. We can create custom vinyl decals for a variety of surfaces, including vehicles, boats, windows, buildings, and more!
We can produce…
• a branded logo decal for your pickup truck
• a custom boat decal for your speedboat, jet ski, or other personal watercraft
• a vibrant and eye-catching decal for your storefront
• or a large wall decal (vinyl mural) for that big empty wall in your workplace
• a perf window decal with one-way vision for your van windows
• wayfinding decal for your place of business
• custom safety signage decal for your industrial facility
• …and much more!
A custom vinyl decal can serve many functions, from advertising to signage to entertainment to decorative flair.
Your Full-Service Vinyl Graphic Shop!
We hope you'll allow One Source Media to be your Queens Signage experts and graphics partner! We have 14 years experience working with New York City's best brands and businesses, and we'd love to work with you! We have a graphic design team to help you with your design, and a full printing and installation crew to get your vinyl graphics done to the highest quality standards.
Please call (929) 205-1088 or email contact@osmnyc.com for a free graphics consultation with our vinyl sign professionals! We'll be happy to provide a no-obligation price estimate for your vinyl banner or custom vinyl sign project!
There are many types of custom vinyl signs, and One Source Media supplies New York City businesses with all of them, with fast turnaround and affordable prices!