Custom Vinyl Lettering Queens NY – One Source Media
Promote your NYC brand with custom vinyl Lettering. Whether you wrap your shop windows with bright and colorful designs or need weatherproof signage to inform and direct customers, vinyl lettering offers infinite possibilities.
Maybe you want to advertise your brand on your vehicle or on a storefront window without splurging for elaborate vinyl graphics? Custom vinyl Lettering could be the answer. 
One Source Media is a Queens sign company serving New York City businesses with our affordable Lettering service that communicates clearly and simply what you're about without a lot of bells and whistles. Our lettering is cost-effective and a great option for branding and promoting your NYC business, which is why our clients love us!
Our custom lettering products are printed on durable vinyl that is resistant to UV rays and water and also resists fading and peeling.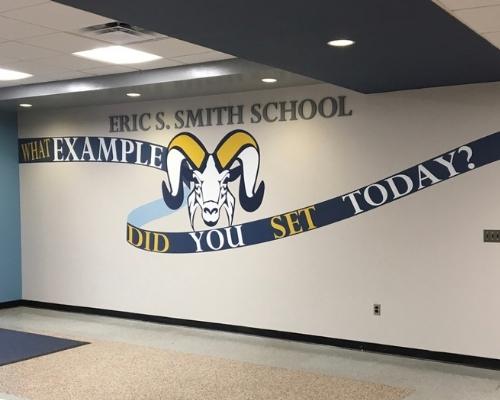 What is vinyl Lettering?
Vinyl lettering is a type of printed vinyl signage. Essentially, it is a vinyl Decal where the letters are cut from durable vinyl materials and then applied to surfaces such as paint, glass, or metal. Custom vinyl lettering is a stylish way to promote your company name, business hours, or logo, and it is also the perfect way to inform customers about an offer or promotion. 
Common applications of vinyl lettering and graphics include doors, vehicles, storefront windows, walls, boats, box trucks, food trucks, tractor trailers, and many other types of objects. Rugged vinyl Lettering can withstand the elements and thus is suitable for indoor or outdoor signage purposes. It can work as a window Decal, a wall decal, or a custom car decal. Essentially, our vinyl lettering affords you endless options for branding and promoting your business!
With custom vinyl lettering from One Source Media, you can transform any surface into a communication and branding platform for your business or organization. 
Vehicle vinyl Lettering
Vinyl lettering on vehicles keeps your branding and message top of mind for your New York City potential customers. Wherever your business vehicle travels, so does your logo and brand message and contact information. In addition to generating more visual impressions for your brand, customized vehicle vinyl lettering allows you to choose from a wide variety of colors, styles, and fonts.
Our vinyl vehicle lettering can be applied to any clean, smooth surface of your vehicle, such as door panels, side windows, trunks, and pickup truck tailgates. You can apply our Lettering to vehicles of all types, including vans, cars, trucks, jeeps, box trucks, SUVs, boats, Jet Skis, food trucks, tractor trailers, ATVs, and snowmobiles. Promote your brand or show off your personality on your vehicle!
Vinyl lettering for NYC businesses
At One Source Media, we offer New York City's largest selection of custom vinyl lettering graphics made from high quality vinyl materials in a variety of styles. Our graphic design specialists can digitally print and cut out your vinyl lettering concepts for any signage or graphic application you can come up with. Our vinyl Lettering  can even be paired with backlighting or other types of illumination for additional visibility.
How to use vinyl Lettering
When you work with One Source Media, you can choose from a wide range of temporary or permanent lettering options, including vehicle lettering, boat lettering, window clings, wall decals, and much more!   One Source Media's vinyl lettering works well for a variety of eye-catching, creative signage applications, including: 
Custom vinyl floor decals 

Boat name decals

Storefront door, wall, or window Lettering  

Wayfinding signage

Block letters 

Window clings

Sandwich board signs
Boat registration decals

Perf window film graphics as lettering

Church signage

We make vinyl lettering easy

Restaurant window menu signs

Custom window decals

Box truck advertisements
Large wall stickers

Food truck branding

Vinyl window perf lettering

Tractor-trailer messaging

Vehicle advertising

Equipment signage

Special promotions
The One Source Media professionals will take care of the entire process of your lettering project, from initial design to the delivery and installation, ensuring that your vinyl lettering has a flawless and eye-catching effect on customers and passers-by. We use the most advanced printing technology to guarantee sharp and vibrant vinyl lettering that will attract customers, and our decal installation experts work with the utmost precision and efficiency. 
Vinyl lettering offers huge advertising potential at low cost
Do you need a simple way to communicate with consumers? How about a  vibrant, attention-grabbing design to promote a grand opening or other  event? The  creative and experienced One Source Media design and installation team can make your messaging and branding goals a reality with our custom Lettering solutions. We have the equipment, the versatility and the abilities to create custom vinyl lettering of any size, font, shape, scale, or color. 
Beyond vinyl lettering
At One Source Media, we offer a number of different types of vinyl graphic and lettering solutions; from large vinyl banners, magnetic signs, vehicle Wrap advertising, perf Window film, and more. Our vinyl graphics and signage are excellent for: 
Promoting your brand in Queens or throughout New York City    

Delivering a public service announcement or important message

Emphasizing your company slogan to the public 

Driving awareness of an important cause

Promoting upcoming events

Highlighting special promotions

Providing contact information 

Reinforcing your brand to the public

Driving social media engagement

Making your brand tagline or company slogan sticky in the minds of consumers

Wayfinding — telling people where to go and how to stay safe 
A passion for signage and service
At One Source Media, we're doing more than just meeting your Signage and graphics needs. We empower New York City businesses by supplying them with all the necessary tools to self-promote their brands and get public exposure. As a top service provider in the NYC Large format printing industry, One Source Media knows how to create graphics, Lettering, and signage that gets results. We collaborate closely with you to understand your audience, and we make sure that our graphics or signage speak to that audience.
One Source Media is the top choice for business owners and advertising managers throughout Queens, Manhattan, Brooklyn, Long Island, and the rest of the greater New York City metro area. We are dedicated to providing prompt service, high quality graphics services, and outstanding customer service to all five boroughs of New York City.
One Source Media distinguishes ourselves from other wide format printing shops. With our diverse print options to our unparalleled customer service, we are as unique as the NYC companies we serve. You're not going to be treated like yet another customer. You and your brand are unique, and should be treated like that.