Truck wrap, Vehicle vinyl wrap, Queens NY – One Source Media
Vehicle vinyl wrap can be applied to any type of vehicle, regardless of size or shape. Truck wraps and truck graphics have gained popularity. Some truck owners want to advertise their business; others simply want to restyle their truck.
For those who use truck graphics for Wrap advertising: in a single day, a truck traveling around Queens NY will produce between 30,000 and 70,000 impressions! One Source Media, as a leading full-service wrap solutions company in Queens for over a decade, can help you achieve this marketing goal.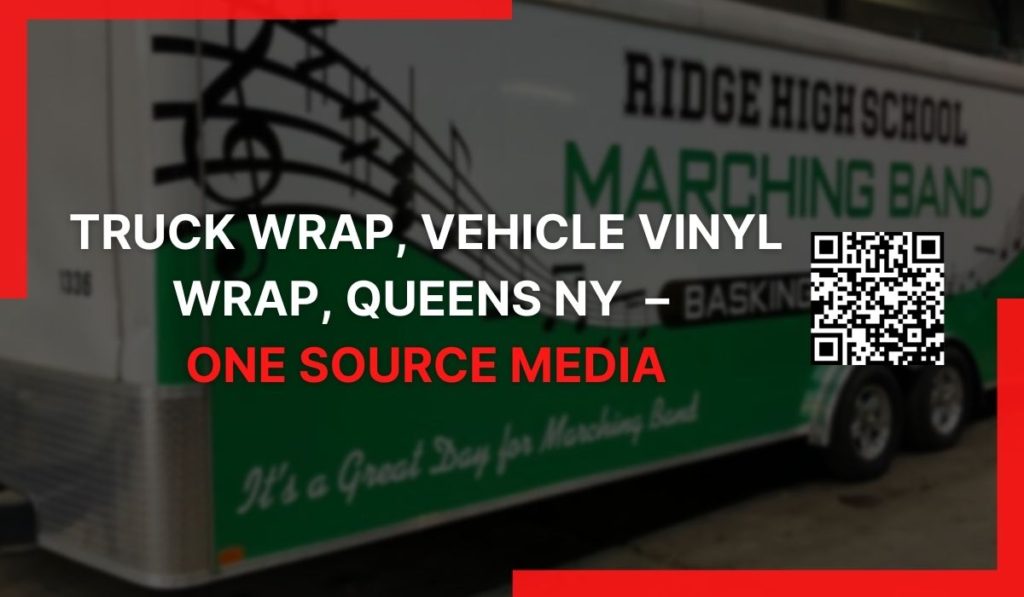 One Source Media Car Wraps is now in Westchester
In addition to our primary Queens location, One Source Media has also opened a second location in Westchester for truck wraps, car wraps, boat wraps, and every other type of Vehicle vinyl wrap, so if you're north of NYC, the Mt. Vernon location might be a good option for your vinyl wrap!
One Source Media Car Wraps
40 W Lincoln Ave
Mt Vernon, NY 10550
(914) 306-8820
What is a truck wrap?
A truck wrap involves wrapping vehicle vinyl on all or part of your truck. One Source Media can wrap your whole truck, or any panel of your truck, including the hood, mirrors, doors, grille, fenders, roof, rocker panels, decklid, and bumper covers. This vehicle vinyl can be a solid color (color change wrap) or be printed with vehicle graphics for business advertising or personal reasons..
Vinyl is a resilient material that can withstand a variety of environmental factors. It's also extremely practical. The material is water resistant, so the truck can be washed without the graphics being damaged. Vinyl graphics can also endure environmental factors such as extreme heat or cold. Since exposure to direct sunlight does little harm, the truck can be left outside for better visibility of your brand's advertisement.
Vinyl vehicle wraps can be one solid color, two-tone, three-tone, or four-tone, which means you can have a main color and one or more accent colors to draw attention to various areas of your vehicle. You are guaranteed that our vinyl wrap colors are long-lasting and will only make your truck more enticing to potential customers.
Maintaining the quality of the truck wrap
Once you've applied the quality wrap, you'll find that maintaining it is a breeze. Just keep your truck clean.
OSM for your truck wrap needs
One Source Media is a Queens car wrap shop with a highly trained team of customer service representatives and graphic designers. We are here to assist you with your custom truck graphics and wraps.
We use the highest-quality Vehicle vinyl wrap materials from top manufacturers such as Avery Dennison and 3M. Just give us a call or email us and we'd be very happy to discuss with you your vehicle wraps and graphics needs.
How much does it cost to wrap a truck?
There is no one-size-fits-all answer. Because there are so many factors that influence the price of a wrap, it's difficult to make a definitive statement. Depending on aspects like whether it's a partial wrap or a full wrap, if your truck has intricate or simple curves, and the materials utilized, you may expect to pay anywhere from $1,500 to $5,000. Call One Source Media Vinyl Wraps at (929) 205-1088 for a free, no obligation estimate.
How long does a vinyl wrap last?
A vehicle wrap's average lifespan is roughly five years under normal conditions. The lifetime of your vehicle wrap is affected by factors such as sun exposure, climate, and cleaning frequency.
Are truck vinyl wraps worth it?
Yes, truck wraps are worth it for several reasons: 
It takes a lot less time to apply a wrap than it does to paint. Installation normally takes no more than three days once your design is finalized. 

Vinyl has the advantage of being able to be removed without affecting the paint underneath.

You may install eye-catching graphics—or just colors and patterns that create a personal statement—and then remove them when it's time to sell the truck with vinyl wraps (or update the design).

Vinyl is simple to keep clean: simply wash it or wipe it down with a damp towel.
How much wrap does it take to wrap a truck?
A 25-foot roll of 60-inch wide vinyl wrap is required for the average car. But we would suggest as truck wrap professionals to let any of us do it for you, so that you're guaranteed a quality result. 
Does wrapping a truck ruin the paint?
Wraps rarely cause harm to a truck's painted surface if the paint is properly attached to the surface. We recommend that before you get wraps, the truck should be painted first as wraps do not adhere to plastic or unpainted surfaces.
Is wrap better than paint?
Wraps are generally less expensive, more durable, and take less time to install than repaints. Wraps also provide more look options and allow for simple color changes.
Can you wash a wrapped truck?
You can use an automated brushless car wash to wash your wrapped vehicle, but hand cleaning is safer and more thorough. Brush vehicle washes may be overly harsh on the film, causing it to degrade and peel, as well as raised edges.
Do truck vinyl wraps scratch easy?
PVC is a tough material that can withstand ordinary wear and tear. Because of this composition, car wraps are prone to minor scratches that occur as a result of normal driving. 
How many hours does it take to wrap a truck?
When done by professionals, the wrapping process will take 2-3 days. Call One Source Media Vinyl Wraps (929) 205-1088 and we can give you a free, no obligation estimate.
Can I wrap my truck myself?
Yes, you can wrap a truck yourself if you have the necessary time and patience. But we at One Source Media Vinyl Wraps highly recommend that you let professionals do it for you. While you're already investing into wraps, why not let experts do it to see the desired result? For a free estimate, call us at (929) 205-1088.