Window Graphics Queens NY – One Source Media
New York City businesses use window graphics for advertising, for privacy, or just to look awesome. One Source Media's custom window decals can transform vehicle windows, office windows, storefront windows, or any other type of window.
People use different terms to refer to custom window decal products. You may have heard them called any of the following:
Window clings
Window stickers
Perforated window decals
Window graphics
Window signage
Whatever term you use, our custom window decal options are amazing! Let's get more customers to your New York City business with their help!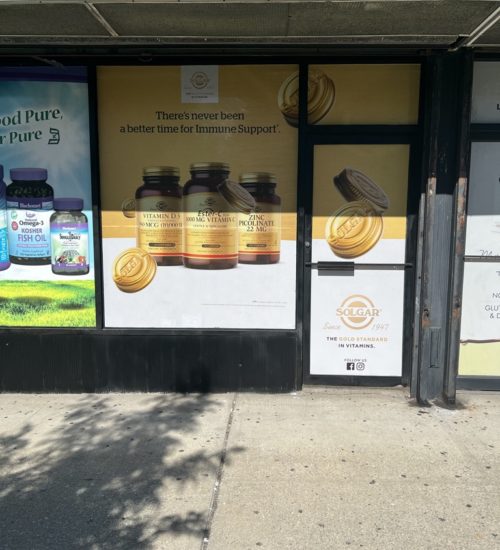 Many Options for Window Graphics
One Source Media can do clear window decals, opaque vinyl graphics, perforated window graphics, and more. Depending on the needs of your business, we can craft the perfect window decal solution for your company.
Simple vinyl lettering
Privacy window film
Transparent vinyl decals
Printed opaque vinyl decals
Frosted glass window covering
Perforated window graphics for one-way vision
Stained glass window decals
Vinyl window clings
Printed window sign decals
Window display graphics
and much more
To learn more about which type of custom window decal might be right for your business, give us a call at (929) 205-1088 and we'll be happy to give you a free consultation!
Window Decal Graphics for Storefronts
Our perforated window graphics turn your store windows into art or signage! You can advertise the products and the services that you offer, show passers-by a beautiful, artistic vision of your brand, or tell people what you stand for. Also, customers love store window graphics.

One-Way Visibility with Window Perf
With our perforated window decals, you will be able to see through to the outside, and light will be able to enter your store, but folks on the outside looking in will see the printed graphics. It's like magic!
Businesses that Use Perforated Storefront Window Graphics
Shopping malls

Showrooms

Bistros

Cafes and coffeeshops

Restaurants

Medical and health centers

Hotels

Fitness centers

Art Galleries
Regardless of what type of storefront business you have, let's get its windows working in your favor with high-quality window prints from One Source Media!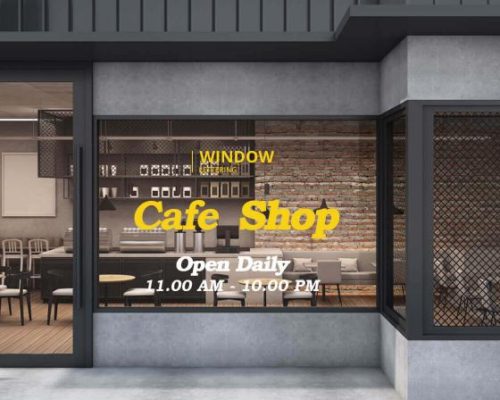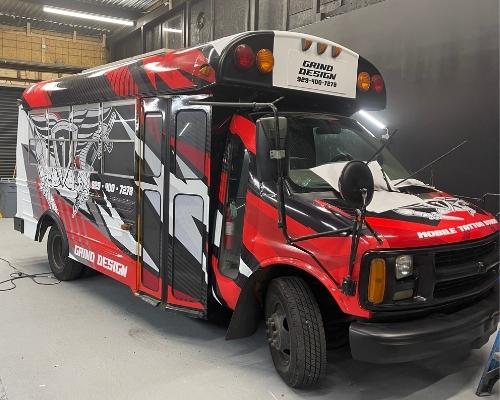 Custom Window Decals for Vehicles
When planning vehicle graphics for your company fleet, don't neglect the windows! Custom window decals covering your side and rear windows gives you so much more brand visibility. Here are some of the many ways you can take advantage of the power of window wrap advertising:
A window decal over the rear window of a pickup truck
Full window graphics across the side and rear windows of a Mercedes Sprinter van, Ford Transit van, or other type of cargo van
Window graphics over a bus or minibus's windows
Custom window decal graphics on the side and rear windows of an SUV
If your vehicle has side and rear windows, it is a candidate for window graphics advertising from One Source Media.
Our professional team can create a custom design worthy of your brand, can print it onto the highest quality perforated vinyl, and can install it as semi-permanent signage on the windows of your vehicle!
Our vehicle window film is almost transparent for those inside the vehicle looking out, but for your potential customers outside the vehicle, the graphics are more opaque in appearance.
The Preferred NYC Window Decal Provider
There's a reason why New York City businesses choose One Source Media for their custom window decals. We have extensive experience with graphic design, window decal printing, and window graphics installation.
Our custom decals are made with the highest-quality vinyl materials and inks for maximum longevity.
When you work with One Source Media for your vinyl window graphics, you will experience extraordinary customer service and fast turnaround, all at very competitive prices. You will also see why we have such an extraordinary reputation for customer service.
Each window cling, wrap, or decal is crafted to the highest standards and installed by our team of trained professionals.
Whether you need graphic window decals for your storefront, your company fleet, or your office windows, One Source Media will get the job done right!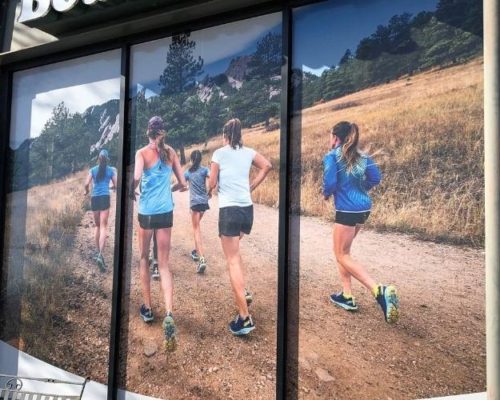 Window Decal F.A.Q.
Here's where we answer the frequently asked questions that come in from our customers. If you don't see your question answered here, email us at contact@osmnyc.com and we can add your question to this list!
What is the difference between a vinyl window decal and a vinyl window cling?
Window decals and window clings are terms that many people use interchangeably. There are differences between clings and decals, however.
Technically, a window cling does not have adhesive to bond it to the glass surface. Rather, a window cling stays on the glass via static electricity. Like a decal, a cling can have custom graphic elements.
A window decal, on the other hand, is printed on a vinyl with an adhesive backing. During installation, the window decal adhesive bonds to the window glass surface, creating a more durable form of signage.
Window clings are often used for more temporary signage applications; window decals for larger windows such as storefront or vehicle graphics applications.
Are vinyl window decals permanent?
No, window decals are not permanent, but they can last a very long time. Our vinyl material and ink is UV resistant, so it stays looking good for a long time in outdoor applications and continues to attract customers to your business.
What is the point of a clear vinyl decal?
Some businesses like clear window decals because they want some vinyl lettering or graphic elements, yet don't want to restrict visibility. In these scenarios, One Source Media prints graphics onto transparent vinyl and installs it onto the business glass. The clear vinyl preserves the ability for customers and staff to see through the window, yet also allows the company to display some messaging.
Do you offer privacy glass decals?
Yes, One Source Media offers privacy glass window coverings. Our custom window vinyl options include frosted glass, etched glass, stained glass, or custom vinyl window graphics for privacy.
All our privacy glass materials are opaque to prevent folks seeing through them. Most of them are sufficiently translucent to allow some light to penetrate, however.
We're happy to discuss your privacy needs so that we can specify the perfect material for your business.
Do you offer custom window signs?
Yes, One Source Media specializes in custom window signs for New York City businesses. Whether you want a custom sign for your store, for your office, or for your vehicle, we can design it on the right material for your application. Our custom window signs are seen all over New York City. We can't wait to work with your business.
One Source Media also offers many other types of printed custom signage such as wall wraps, vehicle wrap advertising, vinyl banners, and more!
Will a printed vinyl decal cover the whole surface of my window glass?
Our custom vinyl decals can be any size you like. A One Source Media vinyl decal can cover the entire surface of a massive glass wall, or can be as basic as a display of your company logo on your glass office door.
Your printed window decals can also be as opaque or transparent as you like. One Source Media gives your business as many options as possible so you can display your branding in the way that serves you best.
Do you provide free estimates for signs?
Yes, we do. When you call One Source Media to discuss window stickers, vinyl lettering, frosted glass covering, or any other type of vinyl signage, we will never charge you for the consultation. We want to help your business grow with the power of custom signs and graphics.