Syndicated by One Source Media, Long Island City, New York
Getting a new vehicle wrap? Then you've probably heard about overlaminate and are wondering what it is and why you need it. For starters, an overlaminate is important for vehicle wraps because it improves the quality and lifespan of the vehicle wrap. For more details about vehicle wrap overlaminate, as well as Manhattan vinyl decals, Westchester boat wraps, and Bronx truck graphics, you can contact the best vehicle wrap shop in NYC—One Source Media.
To put it into perspective, every wrap we install comes with an overlaminate—rarely do we not use an overlaminate. Here's all you need to know about overlaminates and vehicle wraps.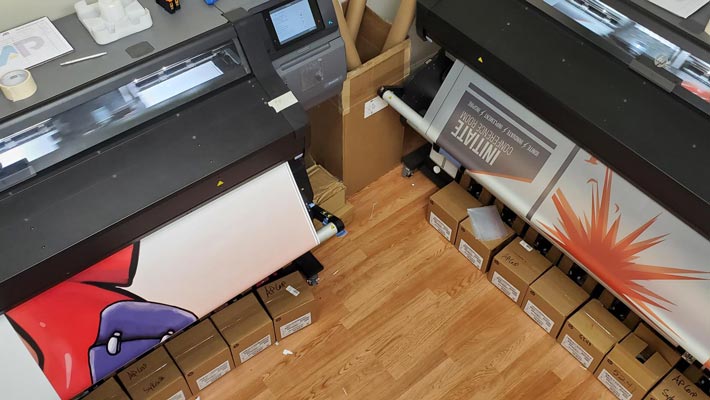 What is an Overlaminate?
An overlaminate is a layer of flexible material that is applied to a new vehicle wrap during the production process. Once applied, the overlaminate is a part of the wrap. This protective layer can be nearly invisible or provide additional visual effects to a wrap's finished look.
Overlaminates Improve Wrap Quality and Lifespan
Most customers we work with are not installing a wrap onto garage-kept show vehicles. These are fleet managers with work vehicles; work vehicles get dirty, they hit bugs, they are not going to always be garage kept. As such, a fleet of busses will not last long without an overlaminate to protect their new bus wraps. Here's how an overlaminate adds quality and life to a vehicle wrap:
Protects against scratches. Things like road salt, pebbles, bugs, or other road debris can cause damage to a wrap. The protective overlaminate layer takes the beating now, but since it is not the layer which holds the wrap's printed colors, you won't see the scratch on the wrap.
Filters out UV rays. Color fading is caused when a wrap has prolonged exposure to the sun's ultraviolet (UV) rays. The overlaminate most fleet vehicle wrap companies use (if they know what they are doing) will filter out UV rays to prevent this.
Adds moisture resistance. The way overlaminate is applied makes it so the wrap itself is fully sealed off from moisture. Like UV protection, this moisture resistance helps your wrap look better for longer.
Shields against fuel vapors. Much like blocking out moisture; one of the more harmful vapors to keep out is fuel vapor. And when we're dealing with vehicles, there is plenty of fuel vapor to shield against!
Makes cleaning easier. When it comes to fleet management, keeping vehicles clean is very important. A wrap overlaminate makes cleaning your vehicles easier and safer for the wrap.
Better installation quality. Overlaminate makes the finished wrap a couple millimeters thicker. This added thickness makes installation easier because the wrap will flop around less. It also helps prevent tears when stretching the wrap over curved surfaces.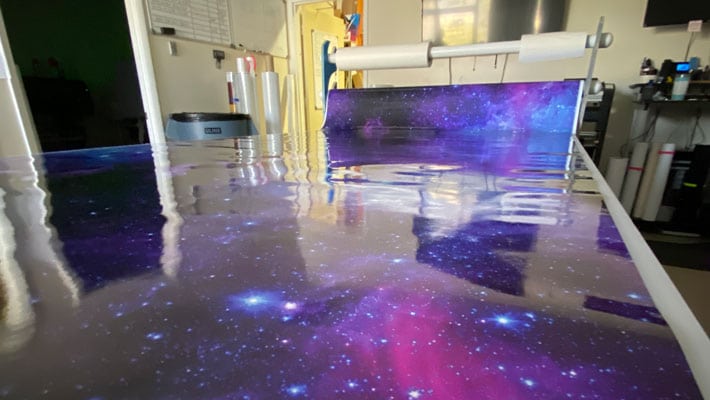 What Type of Overlaminate Should I Use?
Believe it or not, there are many different types of overlaminates. There are different qualities in manufacturers, different finishes, and even different lamination applications. The type of overlaminate you should use will be depend on your project; consult with your wrap specialist for help in choosing the best fit.
Overlaminate film vs. liquid overlaminate. This is a no contest: you want overlaminate film. A painted on or liquid overlaminate dramatically underperforms in all categories. And it's crazy to us because we see some competitors who use this junk! The main reason it gets used? It's cheap. And we don't mean cost-effective or budget-friendly; this stuff is just cheap.
Different overlaminate brands. At One Source Media, we use 3M overlaminate. We do this because we also use 3M vehicle wraps and must use their branded overlaminate in order to carry our MCS warranty. All of that said, if you're going to get an advertising wrap, select a top brand like 3M or Avery Dennison if you want a quality wrap.
Different overlaminate finishes. Overlaminates can come in a variety of finishes, the most common types being gloss, satin, luster or matte. Of those, gloss is the most common type of finish to use on a vehicle wrap as it provides that 'painted on' look. But don't sleep on matte or satin finishes as they can really stand out from the crowd!
Specialty overlaminate finishes. Beyond your regular overlaminate finishes, some wrap shops will also have access to specialty overlaminates like 3M's brushed metal, carbon fiber, or sunburst gold overlaminate to name a few. Want to see how these specialty finishes look? Check out the picture below!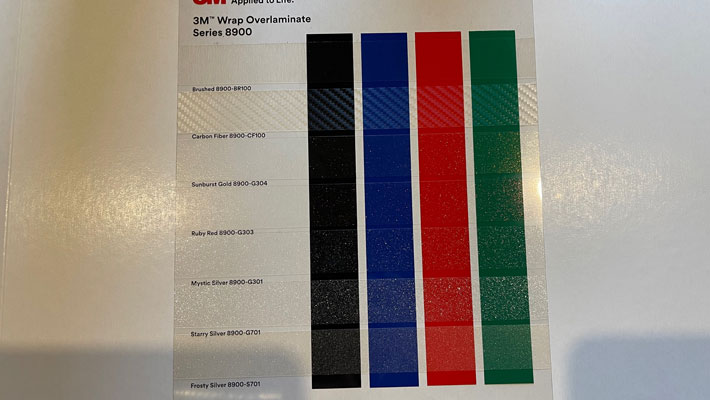 When Would Something Not Get an Overlaminate?
The only time we recommend not getting an overlaminate applied to your vehicle wrap will be when you don't need your wrap to last long. A good example of this will be if a brand is running any short-term promotions. Any length of time after 2 years and a vehicle wrap typically starts to degrade without an overlaminate.
* This article was originally published here: https://www.vehiclewrapping.com/2021/09/overlaminate-important-for-vehicle-wraps/